Verizon Wireless Mobile IP services are a family of wireless data services based on Cellular Digital Packet Data (CDPD or Wireless IP) technology. CDPD is IP-based, contention-based, inherently secure, and economical, making it ideal for both vertical market solutions and Web-based applications such as browsing and e-mail. And Mobile IP services use a CDPD modem, not a phone, so you can use your preferred data device, whether it's a laptop, organizer, ruggedized data terminal, credit card machine, or something else. Best of all, you'll find Mobile IP solutions are virtually plug-and-play.





Verizon Wireless Mobile IP Internet Access Plans If you're heavily reliant on e-mail or information on the Internet or your corporate intranet, you can be mobile and still have easy, affordable access to that information. Verizon Wireless offers a variety of Mobile IP Internet Access plans.

All of these services include a connection to the Internet, so there's no separate ISP account needed, and unlimited usage anywhere in Verizon Wireless's extensive data footprint, all for a fixed monthly rate. You can also use your service in other carriers' markets across the US. If you use a Palm organizer or a Pocket PC device, we've just introduced special pricing for you.

Mobile IP Internet Access services work seamlessly with whatever standard browser or Internet-based application you prefer. Because your wireless modem has its own static IP address, there's no need to hunt for a compatible phone line or jack when you want to be connected -- in fact, there's no need to be anywhere near your desktop computer or a phone line. And you'll never get a busy signal. Since you're not dialing an ISP's phone number, you never incur minutes-of-use or long distance charges.


Verizon Wireless Mobile IP Industry-Specific Solutions If your business relies on real-time data, it can become more productive with wireless data services. Verizon Wireless has developed end-to-end solutions (hardware, software, and service pricing) addressing customer requirements within a number of specific vertical markets. Customers in these industries use Mobile IP Packet data to increase the efficiency of their work force and gain a significant advantage over their competitors.

Industry-specific solutions are available for financial transaction processing, public safety, alarms and telemetry, and field service and dispatch. We also offer standardized Mobile IP Packet Price Plans for your existing IP-based applications of any variety.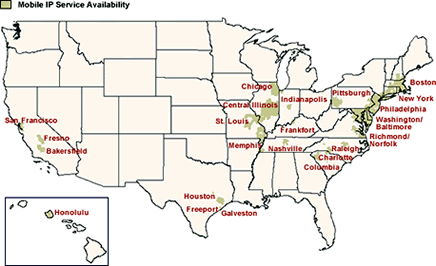 gives you the power and ability to handle your professional and personal business whenever you want, throughout our digital service areas. With Mobile Office, you'll stay connected with important company and personal information.


Mobile Office connects your Verizon Wireless data-capable digital phone to your laptop or Personal Digital Assistant (PDA) to give you secure, dependable wireless access to vital information including e-mail and the Internet when you are in a Verizon Wireless digital service area.


There's no additional access fee for Mobile Office service because it's an included feature of your Verizon Wireless digital service. Mobile Office calls are taken from your packaged minutes just like your voice calls, so there's no need to keep track of a separate bundle of minutes. Everything you need to begin using this convenient and inexpensive service is included in the Mobile Office kit and your Verizon Wireless digital service.